Iron Workers Oppose I-1631: An Open Letter from Council President Steve Pendergreass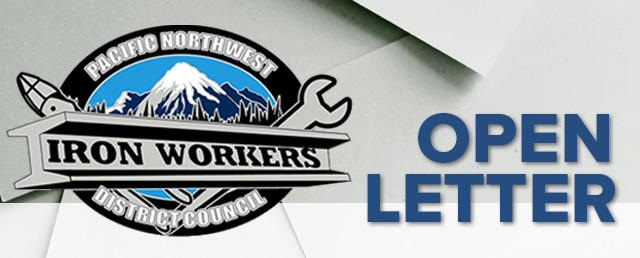 To the legislature, citizens and Iron Workers of Washington State,
As President of the Iron Workers District Council of the Pacific Northwest, it is my responsibility, first and foremost, to protect the good paying jobs of our Union's hard-working brothers and sisters. These jobs generate honest wages for an honest day's work, provide benefits and healthcare to our members and their families, and safeguard the living standards of our working- and middle-class communities. Our membership, both past and present, have fought long and hard to ensure our Union jobs are safe, inclusive, fair and equitable. And so I take very seriously any threat to what our members have earned.
Initiative 1631 is a Threat to Washington Jobs
While reducing carbon emissions is an admirable goal, I believe the current initiative, if passed, will have a damaging effect on our area's current era of growth and prosperity, and eventually cost hard-working people good jobs.
In Washington State, and especially in King County, we have all grown tired of excessive taxation without anything to show for our money. Our property taxes have skyrocketed, our vehicle tabs will soon border on unaffordable, our cost of living continues to increase; all while serious problems such as homelessness and drug addiction continue to plague our communities. The tax money is there, but the government accountability is not.
Adding yet another tax, or fee, to our community, this time directly targeting employers that provide good paying jobs in the industrial and building trades, will have harmful consequences for our state's workers. The large burden of this fee could mean the elimination of essential jobs, or see employers leave the state altogether. So, how will this affect future job growth in our area? I believe this fee will deter organizations considering Washington as a future home from doing business in our state.

Initiative 1631 Will Severely Impact Working Class People
Beyond the loss of jobs, it's clear the working people of Washington will also bear the brunt of this fee at the gas pump and through increases in utility bills. Should I-1631 pass, we can expect the price of gas to jump 14 cents in the first year of implementation and continue to rise into the foreseeable future. Our gas and electric bills will also go up, putting an undue burden on low-income and working families to shoulder the costs. Iron Workers are working class people, and we stand with our fellow community members, whether they are members of a Union or not. We can't in good conscience support an initiative that will make it even more expensive to live in Washington State.
Initiative 1631 Promises Little or No Accountability to State Voters
Should this initiative pass, and the money be collected, who decides where that money goes? I challenge anyone who supports I-1631 to clearly answer that question. The reality is that the funds from the Carbon Fee will be allocated by a Public Oversight Board made up of unelected appointees and members, each with little or no accountability to the voters of this state. To actually get anything done, proposals for spending the money will have to go through a dizzying maze of consultations, be reviewed and discussed by numerous panels, committees, and sub-committees, and also satisfy several defined rules, criteria and processes. It shouldn't be up to an unaccountable group of people mired in bureaucracy to decide how best to spend the hard-earned dollars collected from this community's tax payers.
There is a Better Way Forward — But I-1631 is Not That Way
Make no mistake, we understand that carbon pollution is an important issue that needs to be addressed. But we believe there should be a way to fight for the future without sacrificing the present. To hastily pass an initiative in the name of a righteous cause, while at the same time jeopardizing the livelihoods of working people is contradictory and irresponsible.
Vote No on I-1631
We believe we can fight climate change and carbon pollution without jeopardizing jobs, without burdening working families with increased utility costs, and without handing over our money to an unelected board with no accountability to the public. We believe I-1631 falls short of its admirable goals, and we must instead focus our energy on a better way forward. That is why the NW Iron Workers Council soundly opposes I-1631 and encourages all our members and fellow citizens to do the same.
In Solidarity,
Steve Pendergrass, President, Iron Workers District Council of the Pacific Northwest

An abridged version of this letter was originally published in the Everett Herald and at HeraldNet.com. Click here to read the online op-ed.